Hipsters. Club kids. Club hipster kids….I'm not quite sure what the variety of hipster to which I refer is called. Do they call themselves something? Perhaps they are so individualistic, they don't have a collective name. It's a shame really. Clearly I'm not a part of it, or I would know.
Here is what I do know, about this new genre of trendy character.
1. They seem to like
American Apparel
. A lot.
2. They like to ironically (I think) recycle fashion from the late 80s and early 90s
3. The worse it flatters your figure, the better.
4. If at the time it went out of fashion there was a collective sigh of "never again!" they will recycle it and wear it.
5. It must be terribly contrived and show the amount of effort involved.
Below are some examples of the exact variety of hipster to which I refer. If this is not good enough, I suggest going to
Circa Nightclub
in Toronto for one night, you'll have all the reference you need.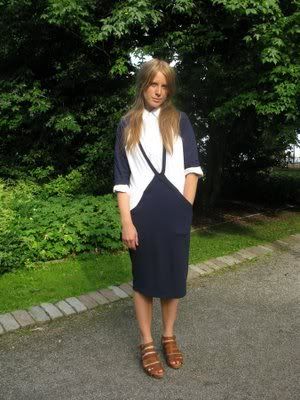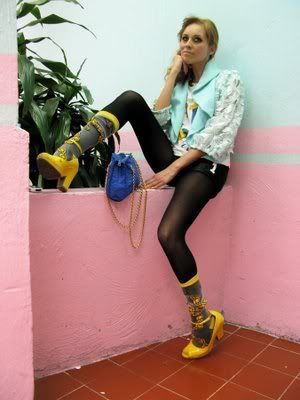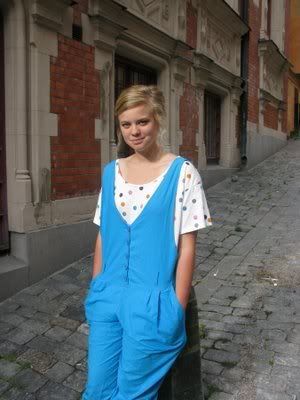 My question is, and perhaps this is a dumb question that in turn shows my age; what exact point does this fashion style have? I guess that leads to the greater question: Does fashion have to have a point? Perhaps this genre's style is that it has no point. How very
dada.
I mean, if that is the point, that there
is
no point, I'll be pleasantly surprised. Is this what the youth of today have achieved?
A collective distaste for genre to the point that genre bending is the new genre?


We all know fashion movements are touted by the youth as a way to express their individuality. Of course anyone over the age of 25 has realized that dressing the same way as a bunch of other people expressing their individuality really doesn't result in you looking very individual at all. That's not necessarily a bad thing, I mean, maybe you just want to fit in somewhere different than you normally do. Like Goths, or Punks. Sure, they look different than the mainstream, but they are also carefully placed within a counter culture slot that is definable.
What I am getting at is that for some reason this particular brand of individualism seems rather contrived to me. Each outfit I see on
Facehunter
(a style bible to this set) seems anything but effortless. Isn't looking cool all about looking like you didn't try? Maybe I missed a memo sent out in 2005 that said looking cool is all about trying hard these days. Maybe this is all about expressing outwardly how geeky you are inside. Maybe geeky is the new cool. I don't know. But it doesn't seem effortless.
Besides paying attention to youth trends for work, I am also paying attention because sometimes you'll see someone walking down the street, dressed in a way that sure seems like they are one of these hipsters. Then they turn to face you, and it's actually a crackhead who is just
still
dressed this way, having not bought new clothes since 1991.
I don't know about the kids, but I generally try and avoid dressing in anything that might get me mistaken for a 42 year old crackhead.