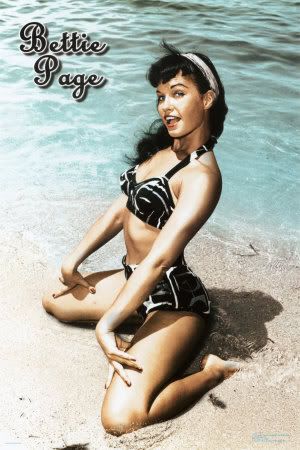 Here are some links to excellent articles on Bettie, her life, her legacy. I won't try and re-write them or whittle them down. Instead, just my favourite quotes from each article.
http://pandagon.net/index.php/site/comments/goodbye_bettie_page/
"She's not playing stupid in these pictures, and it's genuinely hot. She's naughty without seeming to have an ounce of guilt to her. They cater to the fantasies of men who want something more interesting than cheesecake. But it was women (well, women like me and a lot of women I know) who put her popularity over the top. I suspect a lot of women see her picture for the first time and think, shit, I can actually be sexy without getting breast implants, dyeing my hair blond, and adopting a cloying posture. For real."
http://dodsonandross.com/blogs/carlin-ross/2008/12/bettie-page-died-today
"I remember finding one of my grandfather's Playboy magazines and finding the image of Bettie wearing nothing but a santa hat pinning an ornament on a xmas tree. I sat there for hours looking at her. It was her joy and sexual confidence. She looked so different than the other women in the magazine. She was happy. She was sexually expressive. And she was powerful. "
http://www.salon.com/mwt/broadsheet/2008/12/12/bettie_page/index.html
"In light of her status as a darling of third-wave feminists -- between the sexual liberation and the cute bangs, what's not to love? -- it's worth remembering that her fame came, at least in part, from a lack of options. Page had already tried and rejected being a teacher, a secretary and a housewife when she got into modeling -- there weren't too many more careers available to women of her generation."